State Bank Signs Naming Rights Deal for Tri-West Football Stadium with NWHC School Corporation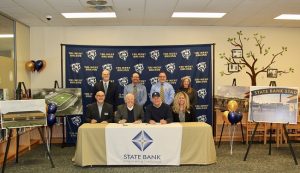 BROWNSBURG, Ind. (Jan 12, 2022) –Northwest Hendricks County School Corporation announced a partnership with State Bank that provides exclusive naming rights to the Tri-West high school football stadium for the next five years. The financial partnership, which the School Board unanimously approved, was signed prior to the school board meeting on Tuesday, January 11, 2022. The stadium will be called State Bank stadium.
"State Bank has a long-standing commitment to and great reputation in the community, and we are pleased to have the hometown bank support the Tri-West School Community Schools and the students we serve," said Northwest Hendricks County School Corporation Superintendent, Scott Syverson.
The partnership provides exclusive football stadium naming rights to State Bank and financial support for the school corporation's education foundation. State Bank is already a long-time contributor to Tri-West's Dollars for Scholars scholarship program.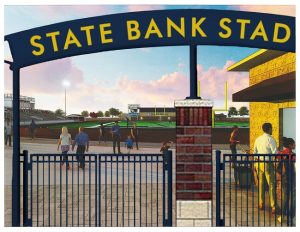 The stadium revitalization project, which is the first of a three-year $25 million dollar athletic complex improvement project, will be completed by August 2022. The stadium will include State Bank signage on a new training facility at the north end of the field and on the on the press box, and fans will be greeted from the new south parking lot with a new State Bank gateway arch.
"For us, this partnership with Tri-West exemplifies what it means to be a community bank. We jumped at the opportunity to support our local school and to highlight our bank's rich heritage in the Northwest Hendricks County area," said State Bank President & CEO, Mike Baker. "And we look forward to interacting with our customers and the greater community as they come to experience events at State Bank Stadium."
Situated less than a half a mile from Tri-West high school is State Bank's Lizton office, which served as its headquarters for over 100 years. The 111-year-old bank also has offices in Pittsboro, Avon, Brownsburg, and Plainfield in Hendricks County as well as Boone, Hamilton and soon Tippecanoe counties. The Bank will have the opportunity to personally interact with business and personal customers at a lot of Tri-West football games.
Tri-West follows a number of other high school athletic programs around the state who've capitalized on the opportunity to align with community businesses on athletic venue sponsorships. The naming rights will assist Tri-West in maintaining the stadium's new state-of-the-art athlete and fan experience and future development of the athletic complex.
About State Bank: State Bank is a $711 million community bank headquartered on the west side of Indianapolis. In addition to operating ten full-service locations, State Bank is a part of the AllPoint ATM network of 55,000+ ATMs nationwide. Bauer Financial has named State Bank a 5-Star Bank based on its strength and performance since 2017, and it was named the Best Bank in Hendricks County nine of the last 10 years. Its offices are in Avon, Brownsburg (2), Plainfield, Lizton and Pittsboro in Hendricks County; Lebanon (2) and Zionsville in Boone County; Carmel in Hamilton County; and opening Summer 2022 in Lafayette. Visit www.StateBank1910.bank to learn more.
 About Tri-West School Corporation: The Tri-West High School Athletic Program is part of the North West Hendricks School Corporation. The Corporation has an enrollment of approximately 2,000 students and has 260 employees. The schools are located and include students from the northernmost part of Hendricks County in North Salem, Pittsboro and Lizton. The center of our community is our high school campus and surrounding athletic facilities. Tri-West Athletics provide student-centered sport programs that value competition and strive for excellence in academics, character development, sportsmanship and team success. The athletic program plays an integral part in our district's mission of graduating well rounded students who are committed to personal growth and are contributing members of their community.