06/22/2023:

FDIC Insurance

Written by: Savannah Jordan

What it is

The Federal Deposit Insurance Corporation (FDIC) is an independent organization that was created by Congress to maintain viability and public confidence in the nation's financial system. It examines and supervises financial institutions for safety, soundness and consumer protection. It also manages receiverships and provides tools, education and news updates to help consumers make informed decisions and protect their assets.

The FDIC is headquartered in Washington, D.C. and has regional and field offices located around the country. It is managed by a five-person board of directors who are appointed by the president and confirmed by the senate.

How it Works

FDIC Insurance protects bank customers in the unlikely event that the FDIC-insured depository institution fails. Bank customers do not need to purchase this kind of insurance as it is automatic once any deposit account is opened at an FDIC-insured institution, and it is backed by the full faith and credit of the United States government.

The FDIC guarantees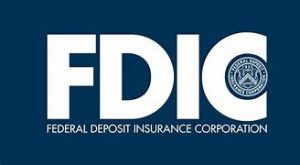 funds back in the form of a check that equals their insured balance of their account at the failed bank, or they provide each depositor with a new account at another insured bank in the amount equal to the insured amount at the failed bank. If the depositor has uninsured funds, i.e. funds greater than the insured amount, they may receive funds back in installments as the failed bank's assets are sold.  These payments, however, would not be all at once, they would be given in periodic payments.
Deposits are insured up to $250,000 per depositor, per bank, per ownerships category, plus any interest accrued or due to the depositor through the date of default. For example, if Katie opens a Certificate of Deposit (CD) at $200,000 that has earned $5,000 in interest, Katie would be insured a total of $205,000. Or, if Charles and Cindy had a joint checking account with $500,000 in it at the time of the bank failure, the entire $500,000 would be insured, as $250,000 would be insured under each of them.
How to Tell if a Financial Institution is FDIC Insured
To find out if a financial institution is FDIC insured, you can ask a bank representative, look for an FDIC sign or you can use the FDIC's BankFind tool.  It is important to note that not every financial product is insured by the FDIC – only deposit products. Deposit products include checking and savings accounts, money market accounts and CDs. Investment products such as annuities, life insurance, stocks and bonds, etc. are not covered.
State Bank
State Bank is an FDIC insured financial institution that was founded in Lizton, Indiana in 1910. For the last 34 years, they have earned a 5-Star or 4-Star rating for excelling under an in-depth, independent analysis of its financial condition conducted by Bauer Financial, Inc. They are here to protect their customers and their funds, and to help with financial questions and goals. Contact State Bank at (866) 348-4674, visit the bank's website or one of its banking centers to learn more about what they have to offer.
###
About State Bank: State Bank is a $780 million community bank headquartered on the west side of Indianapolis. In addition to operating 11 full-service locations, State Bank is a part of the AllPoint™ ATM network of 55,000+ ATMs nationwide. Bauer Financial has named State Bank a 5-Star Bank based on its strength and performance since 2017. Its offices are in Avon, Brownsburg (2), Plainfield, Lizton and Pittsboro in Hendricks County; Lebanon (2) and Zionsville in Boone County; Carmel in Hamilton County; and Lafayette in Tippecanoe County. Visit www.StateBank1910.bank to learn more.