Access Your Bank Anytime, Anywhere
Online Banking
Securely bring your bank to you 24 hours a day, 365 days a year from wherever you are. Don't delay, sign up today. Already an online banking user? Click the blue Online Banking button at the top right of the screen to login.
Online banking includes additional features to make your banking easier including:
Free credit score monitoring powered by SavvyMoney™
Transfer money between accounts
Pay bills
View recent account history
Set up account and card level alerts and spending limits
Freeze/unfreeze your debit card
Sign up for free eStatements so you can easily look back at your statements for 18 months and avoid our paper statement fee
Establish a budget and track spending habits through Spending Habits feature
Tie receipts or warranty documents to transactions with 'Add Images' feature
What's more all of these online banking features are also available within our mobile app!
Free Credit Score Monitoring Powered by SavvyMoney™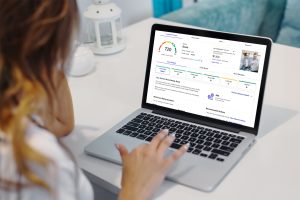 Through State Bank's online banking or mobile app you can help protect one of your most valuable financial assets – your credit score.  Simply opt into free Credit Score Monitoring within online banking or the mobile app to get started. Look for the odometer!
View your credit report
Set alerts to notify you of changes to your credit
Correct credit bureau errors
Use the simulator to see how financial decisions, like opening or closing a line of credit, impact your score
BillPay
Our BillPay is convenient and easy. Set up your payees and then you can pay your bills with a click. Is your time limited? Set up bills to be paid automatically—no worries and no hassles. Login to your Online Banking or Mobile App to get started today!
Forget to pay a bill and it's due?  Charges for overdue payments can be a costly mistake, but with Quick Pay you can pay your bill at the last minute. Let us overnight your check and help you avoid late fees, penalties and interruption of service.  Check with us for fees and restrictions.
Need more information? Contact us today!