Ready. Set. Goal!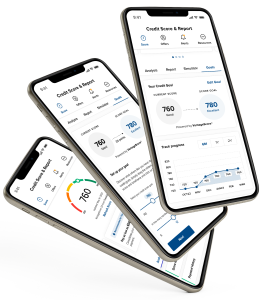 We know your credit score's importance to financial well-being, so we offer SavvyMoney's Credit Score conveniently accessed within mobile banking. Credit Score is FREE to our customers, and you can check and refresh your credit score and credit report daily without impacting your score.
Do you have financial goals? Do you want to improve your credit score to achieve those goals? Whether buying a house, a car, or anything requiring a loan or if you're going to rent a new apartment or improve your overall creditworthiness, Credit Score can help you.
With Credit Score, you can set a credit score goal, receive personalized recommendations, and track your progress toward your goal. You can edit your goal anytime, and you will receive messages when meeting milestones to encourage you along the way.
And there is more! You can access the following features within Credit Score:
Personalized Credit Report
Real-Time Credit Monitoring Alerts
Credit Score Simulator
Credit Score Action Plan
Credit Score Education
Are you ready to reach your financial goals? You got this! Enroll in Credit today.
Ready, Set, Goal!