State Bank Names Brad Marley as Lafayette Market President
BROWNSBURG, Ind. (February 7, 2023) — State Bank, an independently owned and operated community bank, today announced it has named Brad Marley as Market President in Lafayette.
Marley brings more than 35 years of banking experience to the Greater Lafayette Market. Most recently he led Lafayette Community Bank as its President and CEO. Marley is a trusted advisor to countless area businesses and organizations, specializing in larger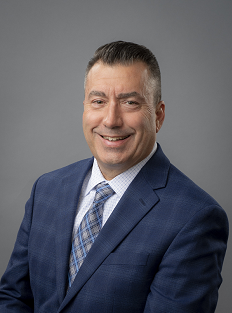 complex commercial transactions ranging from $17.5MM to $42.5MM. His additional experience ranges from being a Market President at a regional bank to being a commercial lending executive at a national bank.
"We are pleased to name Brad as Market President for State Bank's Greater Lafayette area. His expertise in commercial banking and growing business relationships is remarkable," said Mike Baker, President, and CEO at State Bank. "Brad is a true leader who will continue State Bank's strong introduction into Tippecanoe County. His ability with innovative lending techniques for business is well-known in the Lafayette/Tippecanoe County market and business owners and operators are already looking to him for advice. His commitment to and knowledge of Tippecanoe County are unmatched."
In his new role, Marley will focus on building and expanding the bank's market share. His previous experience in agriculture will be a bonus to the hundreds of farmers and implement providers throughout the region. Marley will assume the role from and work with another Lafayette native, Tony Albrecht, Executive Vice President and Chief Lending Officer, whose responsibilities include his activities within Lafayette and across the bank's entire footprint.
Marley graduated from Purdue University, West Lafayette, Indiana with a Bachelor of Science in Agricultural Economics. He also completed both the Indiana Bankers Association Commercial Lending School in Indianapolis and the Indiana Bankers Association Agricultural Banking School in West Lafayette. Among other community organizations, Marley is on the Board of Trustees and Vice President at for the West Lafayette Community School Corporation. He is currently serving as Vice President of the West Lafayette Redevelopment Commission and as Treasurer and Board Member for the Greater Lafayette Police Foundation. Marley recently completed a term as Treasurer and Board Member for the Greater Lafayette Chamber of Commerce.
Marley currently resides in West Lafayette with his spouse, Debra. In his spare time, he enjoys fitness training, running, golf and time with family.
About State Bank: State Bank is a $741 million community bank headquartered on the west side of Indianapolis. In addition to operating 11 full-service locations, State Bank is a part of the AllPoint™ ATM network of 55,000+ ATMs nationwide. Bauer Financial has named State Bank a 5-Star Bank based on its strength and performance since 2017, and it was named the Best Bank in Hendricks County nine of the last 10 years. Its offices are in Avon, Brownsburg (2), Plainfield, Lizton and Pittsboro in Hendricks County; Lebanon (2) and Zionsville in Boone County; Carmel in Hamilton County; and Lafayette in Tippecanoe County. Visit www.StateBank1910.bank to learn more.