State Bank Rated as a Top Performing Bank Earning BauerFinancial's 5-Star Rating
Brownsburg, Ind. (April 10, 2022) – State Bank has once again earned a top (5-Star) rating from BauerFinancial, Inc., the nation's premier bank rating firm. To earn Bauer's top rating, State Bank excelled under an in-depth, independent analysis of its financial condition, having earned a 5-Star or 4-Star rating continuously for 34 years. Among other factors, State Bank had to report impressive capital levels and an enviable loan portfolio with negligible levels of delinquent loans.
"State Bank continues to build on our success in new markets, providing excellent service to our customers in person and online, and deepening our involvement throughout Central Indiana," said State Bank President & CEO, Mike Baker. He credits consistent positive annual earnings and the bank's growth to the outstanding team this community bank has built.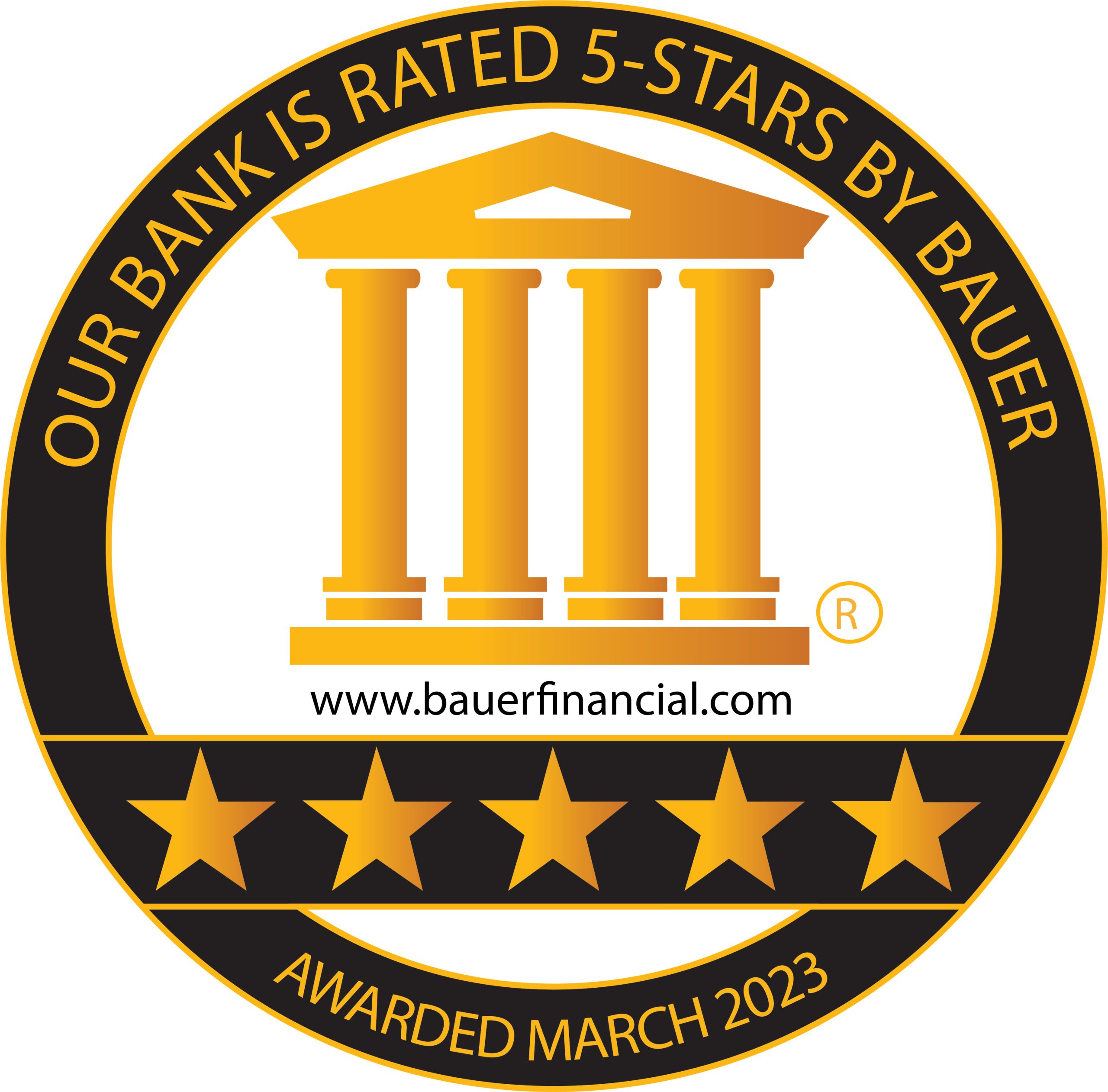 "Local decisions, responsive service, and a dedication to serving their clients and community — these are the hallmarks of community banks, and they are alive and thriving at State Bank," said Karen Dorway, President of BauerFinancial, Inc.
State Bank has built a reputation as a solid financial institution since its inception in 1910. Annual reports consistently indicate growth, while not losing site of its purpose as the community bank in its footprint of Boone, Hamilton, Hendricks and Tippecanoe counties.
"Our high performance in asset quality, lending ability, safety, and soundness is indicative of our board and employees' belief in our identity as a community bank, which is our strategic roadmap," Baker added. "And we are proud to be recognized for our efforts with BauerFinancial's Five-Star rating."
About State Bank: State Bank is a $ 747 million community bank headquartered on the west side of Indianapolis. In addition to operating 11 full-service locations, State Bank is a part of the AllPoint™ ATM network of 55,000+ ATMs nationwide. Bauer Financial has named State Bank a 5-Star Bank based on its strength and performance since 2017. Its offices are in Avon, Brownsburg (2), Plainfield, Lizton and Pittsboro in Hendricks County; Lebanon (2) and Zionsville in Boone County; Carmel in Hamilton County; and Lafayette in Tippecanoe County. Visit www.StateBank1910.bank to learn more.
About BauerFinancial, Inc: Headquartered out of Coral Gables, Florida, BauerFinancial is the nation's leading independent bank and credit union rating and research firm, has been reporting on and analyzing the performance of U.S. banks and credit unions since 1983 Bank and Credit Union data compiled from financial data for the period noted, as reported to federal regulators. The financial data obtained from these sources is consistently reliable, although; the accuracy and completeness of the data cannot be guaranteed by BauerFinancial, Inc. Since 1983, BauerFinancial has relied upon this data in its judgment and in rendering its opinion (e.g. determination of star ratings). BauerFinancial, Inc. is not a financial advisor; it is an independent bank research firm. No institution can pay for or opt out of a BauerFinancial rating. Star-ratings are all available for free at bauerfinancial.com.
#####